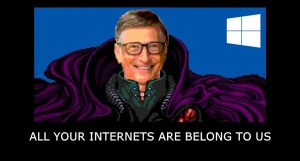 Aside from all the hoopla about Windows 10 invading your privacy and sending your entire hard drive to Microsoft's servers, there is another obvious question to ask: Is Win 10 gobbling up all of your internet connection's bandwidth?
The answer may be yes, especially if you have a slower net connection.
I'm talking about the "Choose how updates are installed" option in Win 10. I did cover this in my post Protect your privacy in Windows 10, but I'm not sure it's so obvious to everyone what this, "how updates are installed" option means in practical terms.
So, let's take a look…