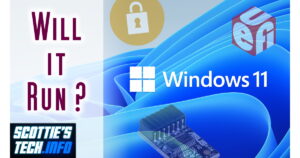 Microsoft can't seem to get Windows 10 right, and maybe now we know the reason: because they just announced Windows 11!
Coming sometime around the end of this year, Windows 11 promises to be everything Win 10 is not.
There's only one problem: Everyone is claiming (including MS) that you'll need a super-modern puter to run it. In this vid, I take a look at Windows 11 and its system requirements. I also review past Windows releases, and how each time, the same thing happened.
In short, YES, your computer will run Windows 11 just fine! Nothing to see here…