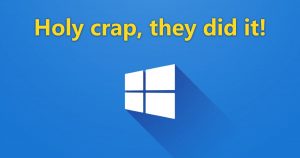 The Windows 10 "Fall Creators Update" version 1709 was released not long ago.
Chances are, if you don't have it already, you'll be getting it soon.
Naturally, there are some new features and stuff, but nothing that most people will get all excited about. It's just yet another "incremental update" instead of a major upgrade.
Given my past articles on improving the privacy and security of Windows 10, what do you need to know about this new 1709 version of Windows 10?