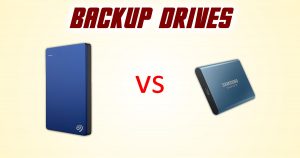 A friend recently asked me about what backup hard drive to buy.
He mentioned an external SSD, which made me do a double-take. External SSD?!
Well, yeah. Apparently, they've been around for years already, although only recently have prices become a bit more reasonable.
And, until now, I hadn't even seen an ad for one!
An external SSD as a backup drive has the primary benefit of SPEED!
But is it worth it? And are they reliable enough for use as a backup drive that might sit on your shelf for months or even years on end?