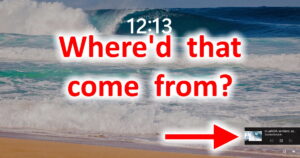 So, this one is fun. All of a sudden, when you lock your puter, the "currently playing" video appears with playback controls on the lock screen.
Now, this might be a useful feature, except that in many cases it's rather broken.
Both Chrome and Firefox on my puter will show the most recently played video on my lock screen – not one I'm currently watching.
This is pretty annoying because A) I don't watch vids when my puter is locked and B) I don't need the rest of the world to see what I've watched recently.
Fortunately, you can turn it off!