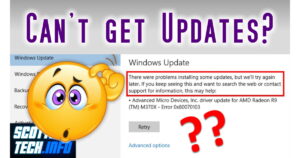 These days, you might not want too many Windows 10 updates given all the problems they tend to cause.
But the fact remains that if you can't update Windows at all due to some cryptic error message, you're still in trouble.
You're missing out on security and reliability updates that you obviously need!
What to do when Windows Update keeps giving you the dreaded 'Retry' button along with an obscure error message that it can't update??
Easy!
Stuff Mentioned in the vid:
See ya next week!