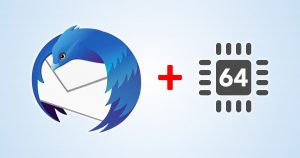 For those of us who don't like webmail because storing all our data in the The Cloud just seems like a Really Bad Idea, the best e-mail program available for puters is Thunderbird.
There's only one problem: the default version you can download from Mozilla's web site is still 32-bit.
Firefox – and pretty much every other piece of software out there – went 64-bit a long time ago.
So, how do you go 64-bit with Thunderbird? And why would you want to?