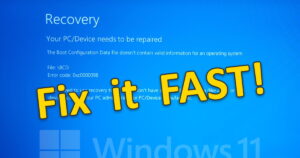 The Windows 11 22H2 feature release is out in the wild. Unfortunately, there are a few problems with it…
On my modern laptop, I upgraded to 22H2 and everything seemed to be going well…
Until I did a hard reboot a few hours after the upgrade was complete.
I got a Blue Screen before Windows even loaded with the message that my PC/Device needs to be repaired: The Boot Configuration Data file doesn't contain valid information for an operating system.
Well, golly gee whiz Mr. Johnson, that's just swell!! What to do now??
Just fix the BCD!
Okay, so I could boot into the Windows RE (Recovery Environment) and just run bcdedit to try to fix it.
I COULD do that, but hang on a minute… There were – once again – a number of problems reported with this feature update.
So, I'm thinking I'll just roll back to the old version, and wait awhile.
Again.
Great, so how do I roll back? I can't even boot into Windows!
No worries! It's pretty easy.
First, press F1 to enter the Recovery Environment: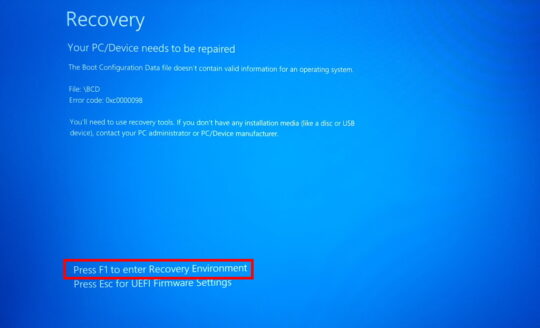 On the next screen, click the Troubleshoot option: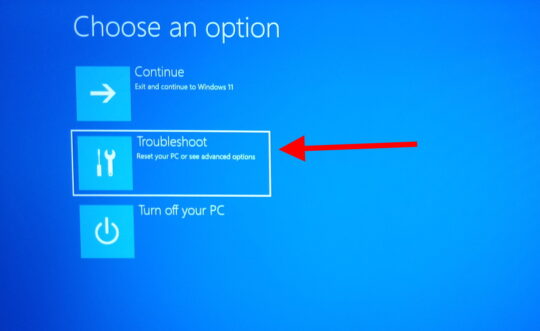 On the Troubleshoot screen, click Advanced options: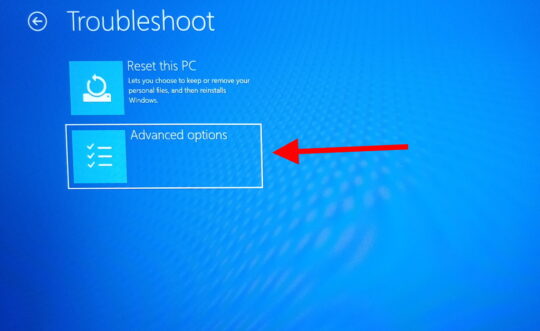 Now, you might think Startup Repair would do the trick, but nope! So that's no good.
Instead, you want to choose Uninstall Updates: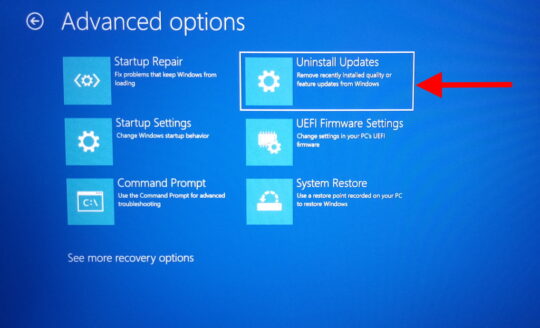 Next, click Uninstall latest feature update: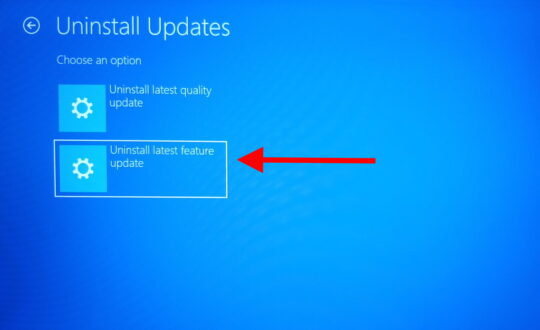 If you recently installed a normal update, you could try clicking Uninstall latest quality update instead.
Finally, just click the Uninstall feature update button: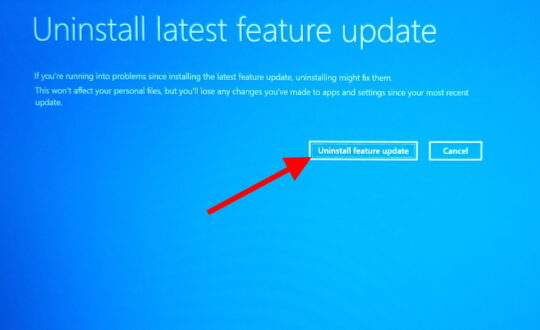 And then, we wait…
Windows will restart, and you'll see a message that it's Restoring your previous version of Windows…
Eventually, it should restart again and POOF: You're back in business!
Just log in as usual and you're back where you started – before the Feature Update borked everything.
In conclusion
So, not so bad in the end. And here you thought life was over and you'd need to call in the Tech Guy or even worse: buy a new puter!
I keep hoping that Windows' big updates will improve in terms of quality and reliability, but I'm continually disappointed.
When will Microsoft once again delivery quality software? Will we all be forced to use linux simply because M$ sucks terribly?
Stay Tuned!! 😉