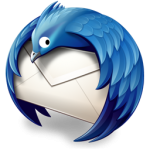 It's hard to find a good e-mail client these days. Despite it's increasing crappiness, I still use Mozilla Thunderbird, mainly because there just aren't any good alternatives out there.
I could use webmail, but I really don't like it. I like to have my e-mail stored on my computer, not on some server somewhere.
But, as I said, Tbird is increasingly crazy. One of the problems I run into a lot is when trying to simply delete a message, Thunderbird hangs with a "Not Responding" message from Windows in the title bar. After about 5-10 seconds, it unhangs and deletes the message. It does this for every e-mail I delete.
This is really annoying, but it's also very easy to fix!