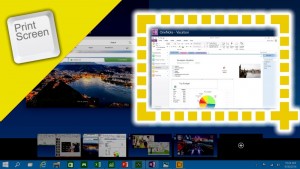 You may have read my earlier post, Capture Part of your Screen in Windows: Behold the Snipping Tool!. The Snipping Tool in Windows is very handy.
But, sometimes you just want a quick and easy way to grab a screenshot.
As I mentioned in my previous post, you can just press the PrtScn (print screen) button on your keyboard, and that will copy your entire screen (or all of your screens in a multi-monitor arrangement) onto your clipboard. Paste into your graphics editing program, and you're done.
That's nice, but there are two other keyboard shortcuts in Windows that make things even easier…