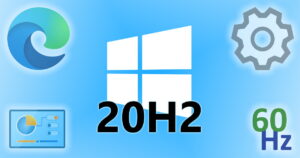 Yet another new 'version' of Windows 10!
This time, they're calling it 20H2 (as in 2nd half of 2020) instead of 2010 (as in October 2020).
I guess the old numbering scheme was getting a bit tiresome since 2004 and 2010 make it sound like the new Windows 10 is already over a decade old…
As with Win 10 1909, 20H2 isn't really a "Feature Update" – it's just a regular large update that doesn't require a long 'upgrade install'.
Just reboot, and you're done.
So what's new??