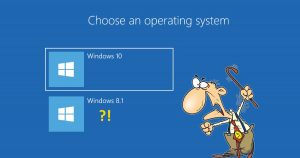 Many of you have installed Windows 10 on your puters only to discover that every time you boot up, you get a screen that reads: Choose an operating system
Windows 10 will of course be at the top of the list, usually followed by either Windows 7 or Windows 8.1. If you pick Windows 10, it fires up and everything works normally.
Obviously, there is still something wrong: Why is Windows 10 asking if you want to boot your old version of Windows? After all, you upgraded, right?
Fear not! There's a very easy trick to remove this boot menu – and it works for all flavors and versions of Windows all the way back to Vista at least…