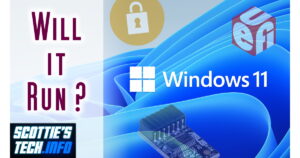 Microsoft can't seem to get Windows 10 right, and maybe now we know the reason: because they just announced Windows 11!
Coming sometime around the end of this year, Windows 11 promises to be everything Win 10 is not.
There's only one problem: Everyone is claiming (including MS) that you'll need a super-modern puter to run it. In this vid, I take a look at Windows 11 and its system requirements. I also review past Windows releases, and how each time, the same thing happened.
In short, YES, your computer will run Windows 11 just fine! Nothing to see here…
YouTube:
Chapters:
0:00 Intro
1:14 Windows 11 Intro
2:40 Android Apps
3:50 System Requirements
4:20 TPM 1.2 or 2.0?
5:50 PC Health Check App
6:50 So what is TPM?!
8:25 History of Windows 'Requirements'
10:18 Enable TPM
13:30 Enable UEFI + Secure Boot
16:23 Do you actually WANT Windows 11?!
Links mentioned in the vid
That's all, folks!