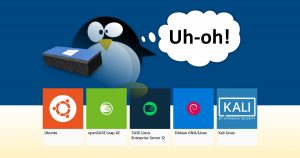 Another Windows 10 upgrade is here: the Windows 10 October 2018 update.
For those of us using WSL, or "Linux on Windows", that means potential mayhem.
When the last Win 10 upgrade version was released, I installed it. I then discovered that my Ubuntu icon no longer loaded anything – except a Bash window with an error message that Ubuntu on Windows was no longer installed!
Oops.
Fortunately, it's pretty easy to fix!