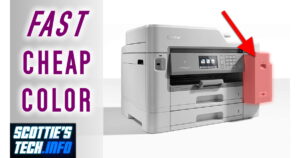 Printing in color has been a total nightmare as long as I can remember.
If it wasn't the initial cost, it was expensive replacement parts for a color laser printer. Then toner cartridge price went through the roof.
And let's forget the dreaded "laser line" problem that often happens even with brand new toner…
Thankfully, there IS a solution: "Business-Class" Inkjets!
While technically these may have been around for awhile, it's only recently that they seem to have taken their rightful place as the color printing solution of choice for the masses.