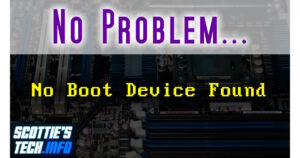 You finally upgrade your motherboard and processor, but you can't boot.
In fact, you can't even see your harddrive in the BIOS or the OS installer.
What the heck is going on?
Well, the explanation gets hairy… But thankfully, there are two solutions, and one of them is pretty simple!
Let's get 'er done:
When you understand how your puter boots, it's easy to fix a Missing Boot Drive! pic.twitter.com/PUmA103S3j

— Scottie (@ScottiesTech) November 21, 2023
Articles mentioned in the video:
Need a new hard drive or graphics card?
Check out my favorites (affiliate links):
That's all, folks! See ya next time…