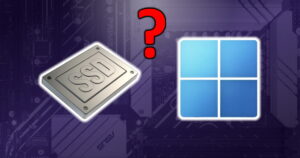 Let's say you decide to take the plunge and install Windows 11 on your puter.
You get everything set up, create a bootable USB stick of Windows 11, and fire away…
And then you discover that your SSD is missing! The Win 11 installer can't see it, and your BIOS can't see the drive, either!
What gives??
First things first
Make sure you made a bootable GPT/UEFI USB stick for the Windows 11 installer.
This is now the default, but you can still screw it up if you're using Rufus, for example, to flash the Win 11 image to your USB stick.
The easier option is to use the Windows 11 Media Creation Tool.
If you do use something like Rufus, make sure you get this part right before you even start!
For OS installer USB sticks, I love the SanDisk Ultra Fit 16GB (affiliate link). They're tiny, plenty fast at 130MB/s), and cheap!
Windows 11 is GPT/UEFI + Secure Boot Only
Well, sort of.
The problem here is that you might think you should disable CSM.
On some motherboards like the Asus Z590-P  (affiliate link), disabling CSM will give you a nice message now which says something like:
Before disabling CSM, make sure you have a UEFI driver on your SSD!
Um, okay…
The Trick
The trick is to use your GPT/UEFI Win 11 USB stick to install Win 11 on your puter with CSM enabled. You can also set the OS Type to Windows UEFI if that setting exists on your particular board.
You can safely leave CSM enabled, and even have Storage set to UEFI and legacy mode.
Then, just let the Windows 11 install rip!
The idea here is that your SSD is only detected by the BIOS if CSM is enabled (i.e. in Legacy BIOS mode).
However, once the Windows 11 installer runs and sees your drive, it will default to a UEFI + Secure Boot installation. Windows itself will partition + format your SSD properly – and plop the correct driver on it.
Check it
You can confirm that all is well once the Win 11 install is done by doing:
Click

Start

button
Type:

msinfo

Click

System Information
You should see:
BIOS Mode: UEFI
Secure Boot State: On
Ta-DA! You're done.
Wasn't that easy??
BTW, if you're having trouble turning on CSM, see my earlier article: Why can't I enable CSM on my new motherboard?