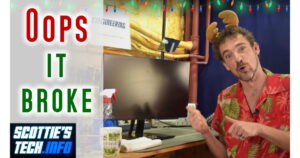 Who doesn't love a shiny, clean screen?
Smudges and fingerprints are just seriously annoying.
But what's the best way to clean the screen on your computer, smartphone, tablet, or TV?
Well, there's one thing you do NOT want to do – as I discovered in a moment of temporary insanity.
The rest depends on a variety of factors…
Grab some spiced cider and Christmas cookies, and off we go:
Youtube
Bitchute
View on Bitchute! (embeds are sometimes kind of broken…)
Rumble
Stuff mentioned in the vid (some affiliate links):
Merry Christmas and Happy New Year!!!