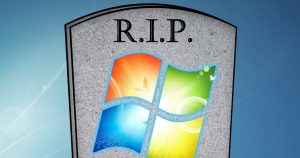 If you're still using Windows 7, I've got bad news for you: On January 14, 2020, extended support for Windows 7 will end.
That means Windows 7 will no longer get any updates or security patches. In other words, it's officially a "dead" version of Windows.
And that means it's time to upgrade to Windows 10!
Now, you might be thinking, "Oh no! I'll have to pay for it!"
Not to worry! You can still upgrade for free.
Wait, FREE?!
Yes, free.
The original Windows 10 upgrade offer from over 4 years ago when Win 10 was released was supposed to be for a limited time only.
And it was. Except it wasn't.
If you download Windows 10 and run the installer from inside a valid, licensed copy of Windows 7, Windows 10 will still upgrade your puter, keep all your files and programs, and activate automatically.
No questions asked!
I don't know if this will still work after the January 14th "expiration" of Windows 7, so don't wait.
Better safe than sorry!
So how do I upgrade to Windows 10?
Easy! Just go here: Download Windows 10
In the section Create Windows 10 installation media, click the button Download tool now.
After you download the Media Creation Tool, just run it. Then, follow the directions on the above page by clicking Using the tool to upgrade this PC to Windows 10.
It's really quite easy!
If the upgrade tool asks you about downloading updates before the installation, say yes. That ensures that you're getting all the latest Win 10 goodies, and your installation is more likely to go smoothly.
That's all, folks!
If you're worried about Windows 10, don't be. There are a few things that are different, but it's quite similar to Windows 7.
And if you're worried about privacy and that kind of thing, don't miss my earlier articles:
And:
Aaaand you're done!