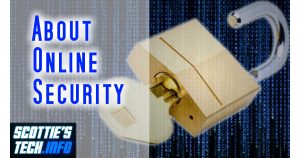 There are a few things you need to understand about staying safe and secure online. You need to realize what you're actually up against.
But don't fret, because it's really not a big deal if you always keep in mind how things usually work.
For example, e-mail is never really safe, HTTPS doesn't really always keep your connection secure, you can be tracked online very easily despite what most people will tell you, and you should always use some kind of anti-virus/malware protection no matter what OS you use.
And remember that the OS you use makes very little difference if you've taken some basic precautions… In fact, thinking you're safe because you use Not Windows is probably a bad idea!
For further reading on the stuff mentioned in the video, see the following articles: