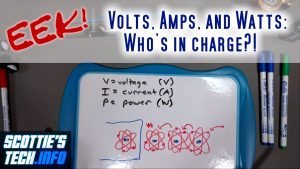 This first video in the EEK! series explains basic concepts of electricity in simple, practical terms.
Learn about conductors, insulators, voltage, current, power, volts, amps, and watts. It's not as difficult to understand as it sounds.
No crazy math or physics required!
Check out EEK! Episode 1 below…
EEK stands for Electrical Engineering Klass, and is also usually the noise people make when one tries to explain anything electrical or electronic. 😉
In this series, I hope to explain relatively complex things in a simple way. If you have any questions, post a comment either here or on YouTube and I'll make more videos!
Wasn't that easy?