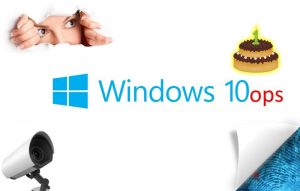 Windows 10 Anniversary Update, otherwise known as Windows 10 Version 1607, was released earlier this month.
Recent updates from Microsoft seem to indicate that only about 16% of machines running Windows 10 have actually been updated.
If you've got Windows 10, you're going to get this latest update sooner or later. When you do, you'll want to – once again – review your system's settings to improve your privacy.
Fortunately, not much has changed…
It's not so bad, really.
If you went through the settings in my earlier post, Protect your Privacy in Windows 10, then you only have a few things left to do.
In short, updating with the Win 10 Anniversary Update seems to pseudo-randomly turn on 2 or 3 settings that you previously turned off.
So, just click the link above and go through the settings again!
There is also a new item in Settings -> Privacy: Notifications
You can decide whether to turn this item off, or leave it on (default). I turned it off.
Done! Well, sort of…
Cortana
Cortana is kind of sort of more evil now, but not really.
Even when you're not using Cortana itself, the default "search my puter" is still called Cortana – just to confuse you.
The settings have also changed a bit, but you can of course change them:
Click the

Search/Cortana icon

on the taskbar
Click the

Gear icon

Turn everything off, like so: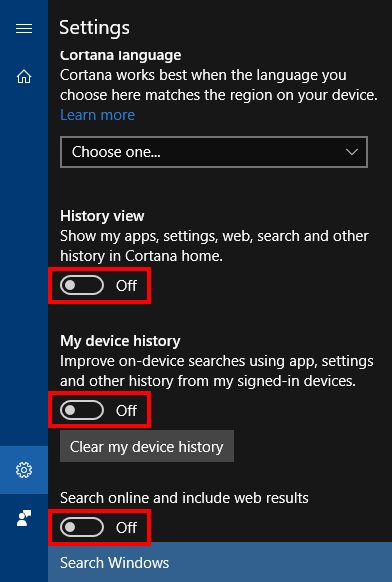 You can still search for files on your puter!
Note that you'll have to click one extra time now in Windows 10… You click Start or hit the Windows key on your keyboard, type your search term, and then… nothing happens!
The trick is to click the Documents icon after entering your search term, like so: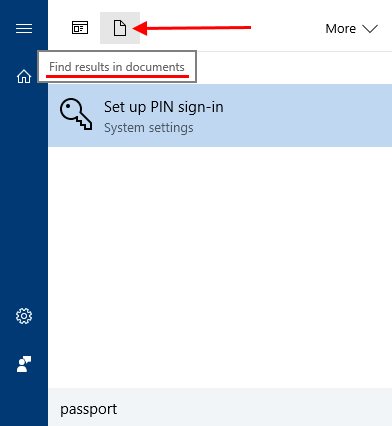 Why do they make you click one extra time? I have no idea.
This worked perfectly well in Windows 7 – without any extra clicking. Apparently, if you don't want to use Cortana, you get to click one more time as a sort of penalty.
For those who are used to Windows 7's search "just working", this is probably the most annoying new "feature" of Windows 10.
Network Settings
If you're sharing files on your local network with others, you'll need to redo your sharing settings.
Open

Network and Sharing Center

Click

Advanced Sharing Settings

Review all your sharing settings
Note that this is only for old-fashioned shared folders… If you're using a HomeGroup, you should be good to go with no changes after the Anniversary Update.
Turn off Superfetch again
If your puter has an SSD (a solid state hard drive), you don't need the Windows feature Superfetch. Superfetch is a service where Windows basically preloads into RAM any software that you commonly use.
The idea is that if you use Thunderbird and Chrome a lot, Windows will preload this software in memory when your puter boots. Then, when you click the programs' icons to run them, poof! They start up very quickly.
Well, if you have an SSD, this is pretty useless. In fact, many SSD manufacturers like Samsung recommend that you turn off Superfetch.
Every time one of these big Windows updates rolls in, for some reason Microsoft automatically re-enables Superfetch, regardless of the previous setting. If you have an SSD, here's how you turn it off:
Click

Start

Type:

services

Click the

Services (Desktop App)

item
The

Services

window displays. Scroll down and find

Superfetch

in the list
Right-click

Superfetch

, then select

Properties

Click the

Stop

button
In the

Startup type

dropdown menu, choose

Disabled

Click

OK

to save your settings
Close the Services window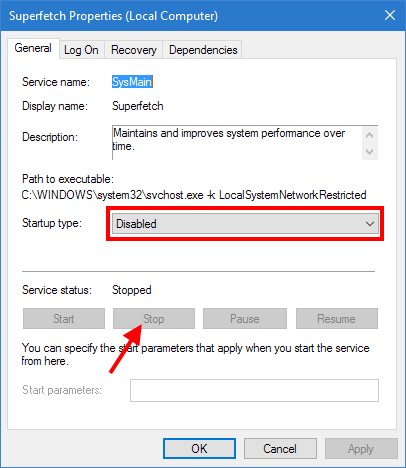 Free up space on your hard drive
The last thing you might want to do is tell Windows 10 to delete your backed-up previous versions of Windows.
Every time you perform a major upgrade of Windows, it keeps a copy of your old C:\Windows directory. In the past, this was to allow you to revert back to Windows 7 if you so desired.
After the Win 10 Anniversary Update, you would be rolling back to the older build of Windows 10 – and you only have 10 days now to do the rollback.
So, if you'd like to free up potentially 20GB or more of space on your C:, just the follow the directions here:
Free up disk space after a Windows 10 upgrade
All done!