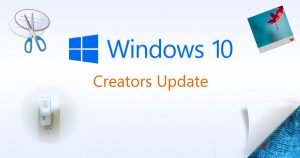 By now you've probably heard that the latest version of Windows 10, the Creators Update, was released to the masses on Tuesday, April 11, 2017.
This update is officially known as version 1703, which is supposed to represent 2017 March… And that explains why it was released in April 2017. Because, ya  know, confusing people with meaningless numbers is always a good thing.
But anyway, the Creators Update is a full "upgrade" to Windows 10, which means a 3GB+ download in most cases, followed by an "upgrade install" of Windows 10 itself.
So, is it satanic? Does it work? What's new? What about privacy concerns?
Read on!
Is it satanic?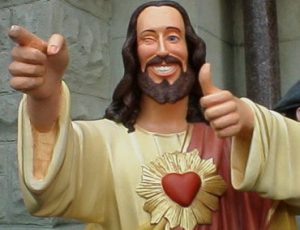 Doesn't seem to be.
So far, I've installed it without a single problem on both my puters, and it's running great.
Note that the update will roll out slowly to everyone over the next several months, but nevertheless you still have three options:
Wait for the update to install automatically via Windows Update, as usual
Force the upgrade using the Windows 10 Update Assistant
Download the update and create a bootable DVD or USB stick if you have many puters to upgrade
I opted for the download method since I've got many puters to update – and limited internet bandwidth.
Does it work?
So far, so good.
Nothing much has really changed. So, if you're worried that this is going to be like Windows 11 and everything will be different and annoying, have no fear!
The Creators Update is pretty much just a "service pack" like in the olden days, but we're not allowed to call it that any more because, well, stuff…
There is one annoying change for power users: The Start (Windows logo) button right-click menu no longer contains Control Panel. That's really irritating…
Clearly, Microsoft wants you to use the Settings screen. In most cases, that's fine, but they keep changing things, and Control Panel is old and familiar. Oh well.
If you want, you can click Start, type "Control Panel", and then right-click the Control Panel icon and pick Pin to Start. Done!
Otherwise, everything works like it did before, but there are a few new toys.
What's new?
There are a few new goodies that might interest you.
First of all, for lovers of f.lux, MS added Night Light. Just right-click the desktop, and click Display Settings. You'll see this: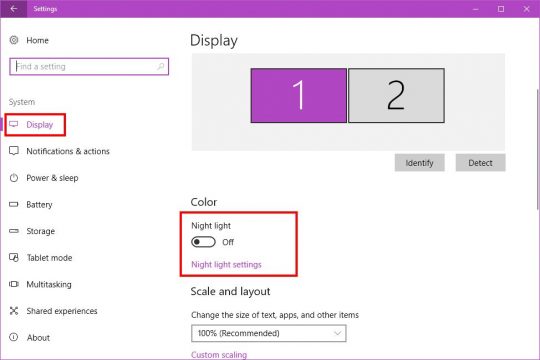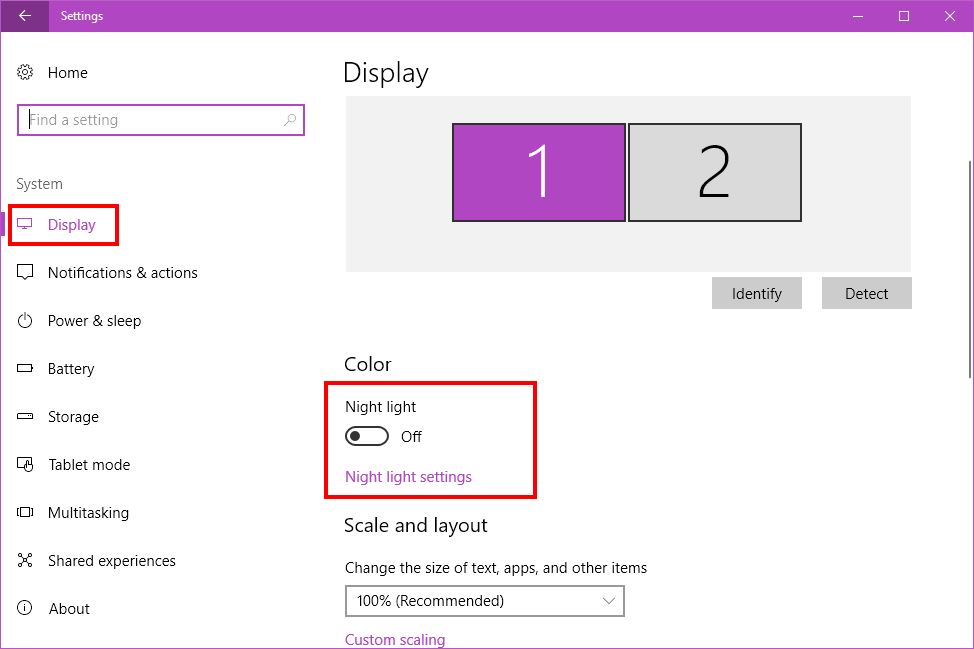 You can turn on Night Light and adjust the settings: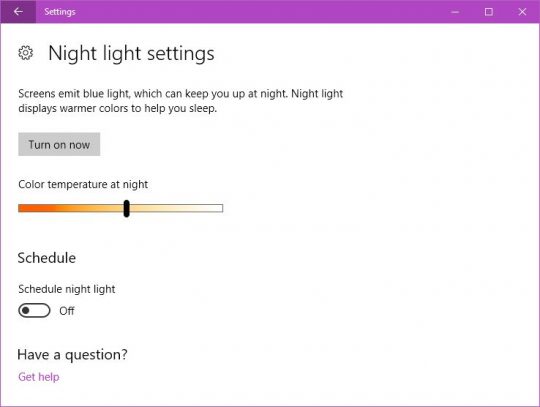 Pretty sassy, I reckon.
The new version of Win 10 also includes a boatload of themes. Right-click the desktop, click Personalize, and then click Themes on the left: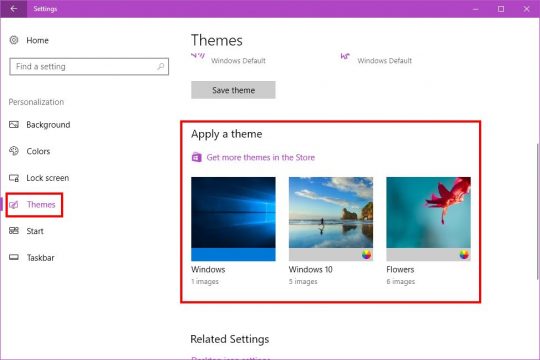 What's really nifty here is that if you click on Get more themes in the Store, they are all free! That's something in this day and age.
Next, you can now pause or delay Windows Updates. This is really handy if you've had problems with updates screwing things up. Now you can delay some updates for a specified amount of time.
Just go to: Start -> Settings -> Updates & security -> click the Advanced options link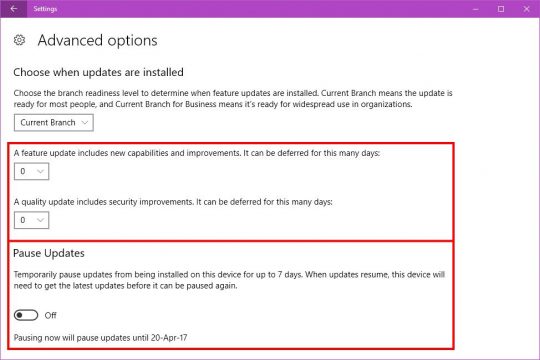 You can defer Feature Updates for up to 365 days, you can hold back Security Updates for up to 30 days, or you can pause all updates for up to 1 week.
I'm probably not going to use this feature since I've never had problems with Windows updates, but your mileage may vary. It's a nice option to have!
Finally, the Creators Update for Windows 10 includes a slightly improved Snipping Tool: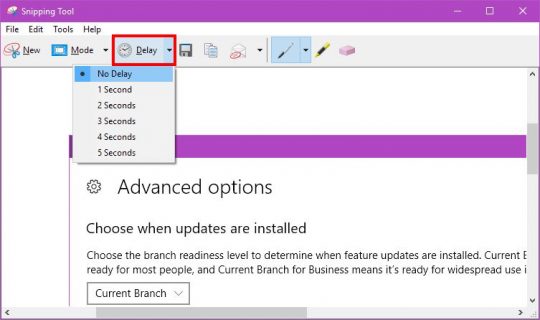 The snipping Mode is now a button with a nice pulldown menu, and an adjustable Delay has been added.
The Delay is quite handy if you run into the problem of doing a Window Snip, but the title bar is white because the window was inactive.
Now, you can set a one or two-second delay to give yourself enough time to click the window you want to capture. Pretty handy!
Privacy concerns…
After my earlier articles Protect your Privacy in Windows 10 and Protect your Privacy in Windows 10 Anniversary Update, you'd probably expect to have to turn off all kinds of nonsense again.
But no!
With the new Creators Update, Microsoft actually left your privacy settings alone! I nearly fell off my chair…
The only setting that seems to be new (and which I turned off) is in Start -> Settings -> Privacy -> General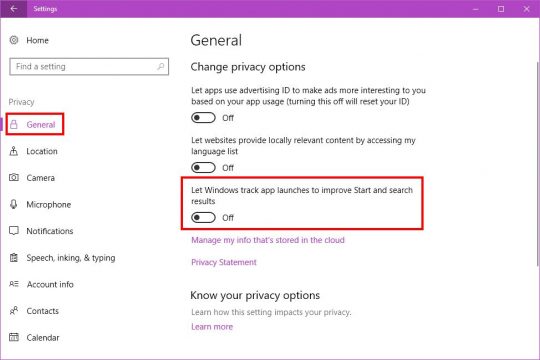 Let Windows track app launches to improve Start and search results seems to be on by default. I think this is a new option, but maybe I just didn't notice it before after an earlier update.
In any case, I turned it off.
Other than that, everything looks pretty good privacy-wise!
Not too shabby
So there you have it.
Easy upgrade, some new toys, and no real annoying "privacy option reset" process to go through anymore after the upgrade.
That said, unless you really want one of the above new features, you can probably just wait for the update via the normal Windows Update process.
That'll give MS time to fix any bugs discovered, and ensure an even smoother and happier upgrade experience.
Update: If you're using the N edition of Win 10, you can download the new Media Feature Pack to get Windows Media Player and other media features back again!