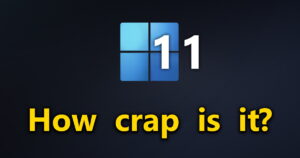 If you've read my earlier article, Will Windows 11 run on your PC? November 2021 Update, you probably decided you don't want Windows 11 after all.
Well, I just upgraded my main puter to a new 12th gen Intel Core i5-12600K processor… And I REALLY needed to do a clean install. It's been awhile.
So, I decided to take The Windows 11 Plunge!
Surprisingly enough, if it runs on your machine, Win 11 is not bad. It's really not that great, either.