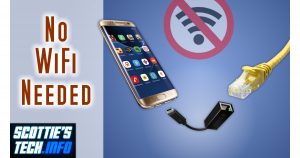 Many people have asked me how to use ethernet instead of WiFi with their tablet or smartphone.
While the idea is simple enough, getting ethernet to actually work with your gizmo can be anything but easy…
Some devices simply won't work with certain USB-Ethernet dongles, and other devices won't work at all with any dongle – period.
So, the short answer is: it's complicated!
(more…)