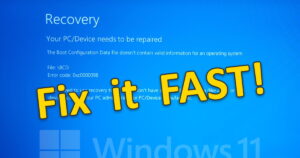 The Windows 11 22H2 feature release is out in the wild. Unfortunately, there are a few problems with it…
On my modern laptop, I upgraded to 22H2 and everything seemed to be going well…
Until I did a hard reboot a few hours after the upgrade was complete.
I got a Blue Screen before Windows even loaded with the message that my PC/Device needs to be repaired: The Boot Configuration Data file doesn't contain valid information for an operating system.
Well, golly gee whiz Mr. Johnson, that's just swell!! What to do now??