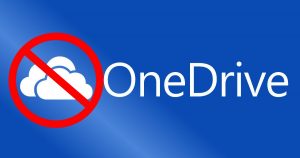 OneDrive is Microsoft's "cloud storage" for Windows. Beginning with Windows 8, it was installed by default.
If you didn't want it, you could easily disable it.
Beginning with Windows 10 1703 – the "Creators Update" – the story changed a bit. OneDrive seems to keep popping up over and over.
Even if you tell OneDrive not to launch on startup, and even if you close it, it will still pop up in the latest version of Windows 10 at rather inconvenient times.
Now, in the past, the Group Policy Editor or a registry hack was required… But the good news is that it's easier than ever to make OneDrive go away for good!