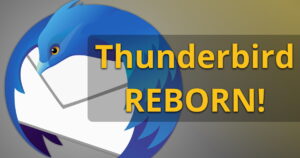 So there I was, reading my e-mail the other day, when I received an upgrade notice from Thunderbird.
Great! Maybe they'll fix things… So I upgraded.
Welcome to Thunderbird 78, where everything has changed!
Well, sort of…
My add-ons no longer worked, the folder pane was hideously black and white, I lost my CompactHeaders, and my message pane buttons were all screwed up. SIGH…
But, not to worry… Big things are in store for good old Tbird, and many of the annoying changes are easy to fix!