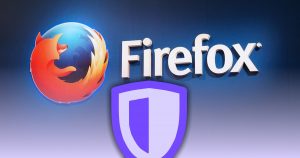 Recently, Mozilla introduced a fabulous new feature to Firefox: Content Blocking!
The idea is that Firefox will automagically block the tracking processes of web sites to increase your privacy.
By default, this tracking should only be enabled in Private Browsing Mode, which makes sense. You don't want everyone's web site experiences to be suddenly broken.
One minor detail: It appears that for many people, "broken" is exactly what Content Blocking is…
How it works
You'll be surfing the net, minding your own business.
Sometimes (but not always), you'll see a purple shield appear in the address bar of Firefox. After a second or two, the purple shield icon will turn grey.
If you don't see the shield icon, you can also click the "i" info icon instead to make the following popup box appear.
Why the shield appears sometimes and not others is a total mystery. When I view the same exact web page on different puters in the same version of Firefox (65.0.2), sometimes the shield appears, and sometimes it doesn't!
Go figure.
Anyway, this is what you'll see: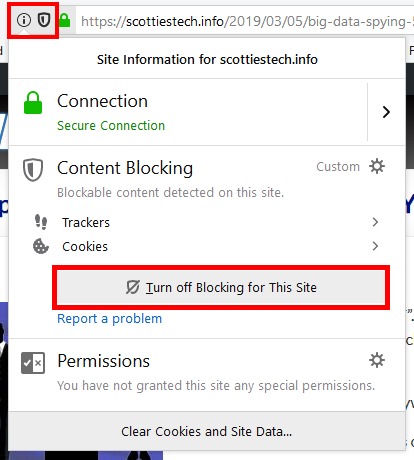 What's more, on different puters, you will either see the Turn off Blocking for This Site button, or you won't – even though both say, "Blockable content detected on this site". Same Firefox version, same URL.
Again, go figure.
The Problem
Parts of web sites are disappearing.
For example, with Content Blocking, suddenly Facebook Like buttons disappear, or Spot.im comment boxes don't show up.
So, naturally, you click the Turn off Blocking for This Site button as shown above. The page refreshes. And…
Usually – but not always – the missing stuff re-appears. YAY!!
Changing Content Blocking Settings
To change the Content Blocking settings, click the hamburger button (3 lines in the upper right corner of the Firefox window), and then choose Content Blocking: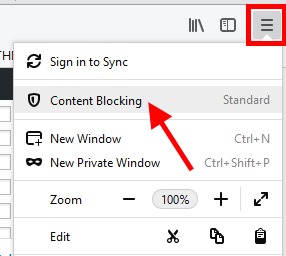 The default settings are as follows: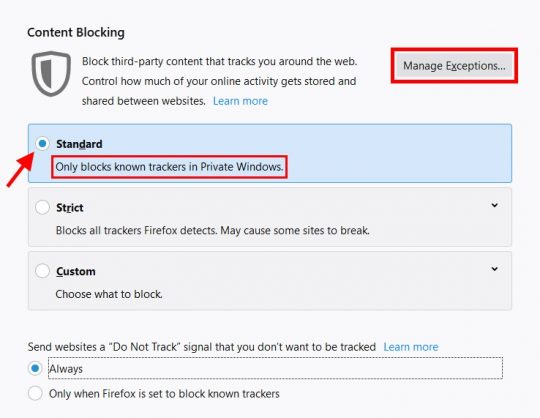 Note that while the Standard setting is only supposed to block trackers in Private Windows, that doesn't always seem to be the case.
It seems that sometimes, for some users, it's blocking trackers in normal browser windows, too. YAY!
If you have turned off blocking for any sites in an effort to fix things, you can view those allowed sites by clicking the Manage Exceptions button.
Oh dear, oh dear…
So, if you're having problems with some sites and tracking, you can also (try to) turn off Content Blocking altogether, like so: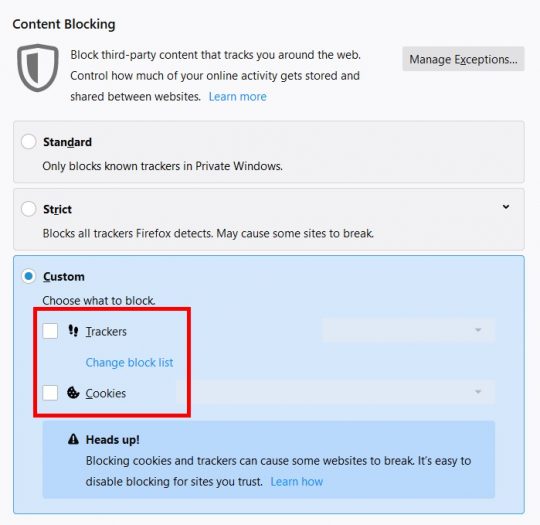 Pick Custom, and UNcheck Trackers and Cookies.
Now, you'd think that would turn Content Blocking off for good – but alas, no.
I still had to add exceptions for some of my favorite web sites!
It seems that the more I played with the settings, the more random things became. Obviously, something is broken, especially since I'm not using any add-ons that are interfering with Content Blocking (I tested).
And as I mentioned, the nutty behavior happened across multiple computers in different locations.
WTH, Mates?
I have no idea.
I know there are many bugs in Content Blocking, which you can view here.
I guess we'll have to wait for a future version of Firefox to fix all the squirreliness.
But at least now you know that if you're having problems with Content Blocking in Firefox 65, you're not alone!