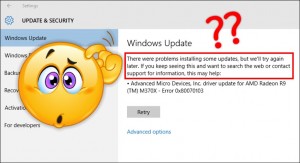 Update 30 March 2021: You can also watch the video!
Let's say you just ran Disk Cleanup to remove old Windows files that you don't need any more.
Then you notice that Windows Update keeps giving you error messages. No matter how many times you try, the updates keep giving you some cryptic error code.
Well, first of all, you might try my suggestions in:
Windows Update Error: How to make Windows Redownload Corrupted Update Files
The above trick is a simpler version of the Manual Method I present here, but it might work.
If not, don't worry. We have more tricks up our sleeve…