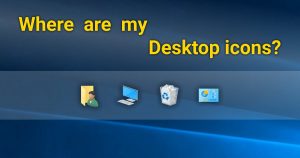 So, you get a new puter running Windows 10.
It's speedy, and Windows 10 doesn't look much different than Windows 7, so life is good.
But then you notice a little problem: Many new computers come with only the standard Recycle Bin icon on the desktop.
Computer / This PC is missing, along with Network.
Getting these icons back was a piece of cake in Windows 7, but it gets slightly more complicated in Windows 10 (naturally)…