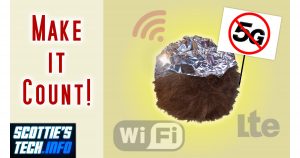 You know the drill: you try to tell someone about some study showing the health effects of WiFi, 5G, or whatever, and then it hits…
Maybe they come back with one of several standard cop-outs, maybe you're called crazy, maybe they ask what happened to your tinfoil hat, or maybe they even get angry and abusive!
So, what to do?
In this video, I give some tips and tricks and information that hopefully you will find useful in spreading the word.
And ya know what? If all else fails, move along. There are 7.3 billion other people in the world…
Useful links:
Above all: Have fun!