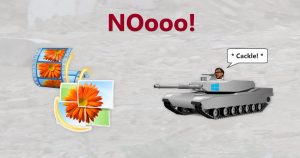 Last month, I wrote a lovely article entitled How to remove date stamps from photos in Windows 7, 8 and 10. The trick was to use Windows Photo Gallery since it's a pretty powerful and handy bit of photo-organizing and editing software.
Apparently, Microsoft will end support for Photo Gallery (and all of Windows Essentials 2012) on January 10, 2017. That's in a few short weeks!
Fear not though, because it's still available for download now from MS's site. And even after January 10th, you can download the full version below!
Live, Essential, Photo Gallery… What?!
Yeah, I know… Microsoft is piss-poor at naming things.
It's Windows Live.
No, it's Windows Live Essentials.
Nah, now it's Windows Piggy Piggy Gumdrop Essential Programs for Your Digital Lifestyle. Yeah, that's an awesome name…
Oh wait, no, we're back to: Windows Essentials.
Sometimes, I imagine that there is a secret group of 300 highly-paid people at Microsoft whose only job is to sit around and endlessly debate which stupid name they're going to use this week for some chunk of software.
SIGH… To make matters worse: Do you want to find the installer for the latest version? Well, good luck with that!! 🙁
But, I digress…
Anyway, in my article on how to remove date stamps from photos, I actually gave a link to Windows Live Essentials 2011. That's back from the Vista days.
The newer version is Windows Essentials 2012 (I updated the links in the date stamp article).
Both of these suites of free MS apps contain the same thing, but the Essentials 2012 version is newer and better (um, theoretically).
So, if you want Photo Gallery and/or Movie Maker, you should grab them from MS's site right now before they disappear:
Not to worry though. If the above link stops working, this one is guaranteed to work:
Windows Essentials 2012 Suite Full Installer
BOOYAH! I'm hosting the second link, so even though MS will no longer support the Essentials suite, you can still download it and use it. I'll be using it for a long time to come!
How do I know what version I have?
Piece of pie…
Run Photo Gallery, click File, and then click About Photo Gallery: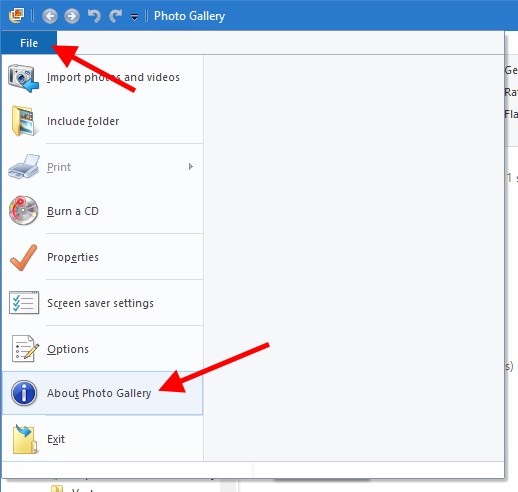 Voila: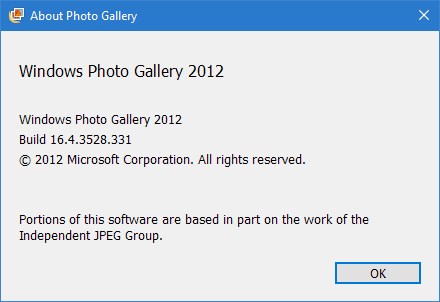 If you have the 2011 version, download the installer above, run it, and let it update your software. DONE!
I actually discovered that on my Windows 10 install, I still had the older 2011 version, so I just updated, too. Oops.
If you run the Essentials 2012 installer with Windows Live Blah Blah Blah 2011 installed, you'll get an upgrade window, like so: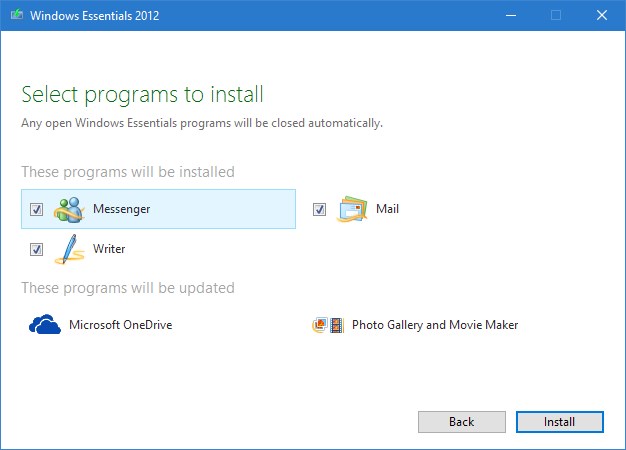 What else is in Windows Essentials 2012?
Well, not much anymore:
Photo Gallery – Still awesome!
Movie Maker – Basic video editor. Some people use it and love it, some not.
Windows Messenger – Not needed; replaced by Skype (which is now an MS product)

Windows Live Writer

– Not needed since it's an old blog-posting tool

Windows Live Mail

– Not needed since it's an old mail client

OneDrive

– Not needed since OneDrive comes built-in to Win 10
Note that Photo Gallery and Movie Maker come as a "bundle", so you'll get both whether or not you want Movie Maker. The other options can be UNchecked, since there's a very good chance you'll never use them, and/or there are newer alternatives available.
What about the Windows 10 Photo app?
As I remarked previously in How to remove date stamps from photos in Windows 7, 8 and 10:
Windows 10 comes with the Photos app by default. Photos has a "Spot fix" feature that is essentially the same as Retouch in the older Windows Live Photo Gallery:

Trouble is, Spot fix doesn't work very well. So, if you have Windows 10, I still recommend downloading Windows Essentials Photo Gallery because everything just works better.
Now, some people seem to love the Win 10 Photos app, but personally I really hate it. This whole "Universal Windows Dumbed Down App" thing is really irritating.
But hey, try it out. Maybe you'll like it better. However, as I mentioned above, for things like removing date stamps from photos, the Windows Essentials 2012 Photo Gallery is waaaay better.
Happy Holidays, and Be excellent to each other!