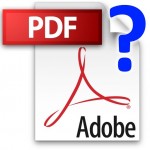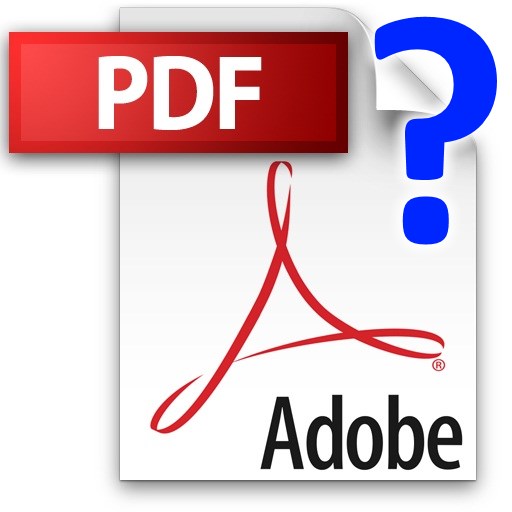 NOTE: If you like PDF thumbnails, DO NOT install Acrobat Reader DC! See note at the end…
Okay, this one is VEEEERY annoying.
You have the 64-bit flavor of Windows 7 or Windows 8. You install Adobe Acrobat Reader.
You expect that on your desktop and in Explorer, you will see a thumbnail preview image of the first page of each PDF document.
Instead, you get nothing. NOSSING!
So, you search Google, and you find a bunch of tricks, fixes, and paid software that doesn't work.
Well, after trying a million things, here's what worked for me in both 64-bit Windows 7 and Windows 8…
There are actually 2 issues here to pay attention to:
Indexing the contents of PDF files so that they are searchable by Windows Search
Displaying the first-page thumbnail preview on all PDF files
For #1, there is always the classic option of installing the Adobe PDF iFilter 11.0.01 for 64-bit Platforms. In Windows 7 x64, this was necessary in order to be able to search the contents of PDF files. In Windows 8, however, I found that installing it made absolutely no difference for either the indexing or the thumbnail problem.
Instead, the indexing problems seems to have magically resolved itself by upgrading to the recently released Acrobat Reader XI. After installing the latest Acrobat Reader, it seems the contents of all my PDF files are now indexed, and therefore searchable. About time!
As for the thumbnail previews, they still didn't work after upgrading to Reader XI. I saw this: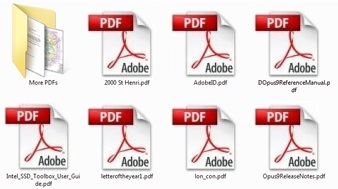 It seems that the problem is that Adobe simply doesn't care about PDF thumbnails on 64-bit machines. Even installing Acrobat X Pro didn't give me proper PDF thumbnails. I don't have Acrobat Pro XI, so I can't tell you anything about that one.
In any case, you will find many solutions to this thumbnail problem, but this is the one that works: Adobe Reader x64 Fixes v3
If that link doesn't work, try this one: Adobe Reader x64 Fixes v3
You can also check out the web page where I found this PDF thumbnail fix.
This little program is very simple to install: you just run it, and let it do its thing. It actually fixes both Preview Pane viewing of PDFs, and thumbnail generation. It just makes it so that 64-bit Windows can use the 32-bit thumbnail generation included in Acrobat Reader. It's simple, and it works. Now, I see this: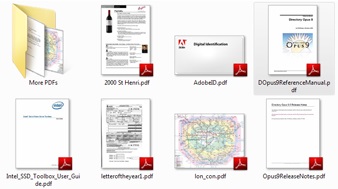 WOOHOO!
Note that on the web page linked above, this fix is rather old. It was originally designed for Vista x64. I have tried it on Windows 7 x64 and Windows 8 x64, and it works like a charm on both.
Of course, this raises a rather burning question: What the hell is wrong with Adobe that even after all these years, and with all these 64-bit Windows installs out there, they still haven't fixed the thumbnail problem?!
I guess they are just too busy releasing incremental improvements to their Creative Suite software, and charging an arm and a leg for each "major" new release. SIGH! Oh well…
One final note: While Windows 8 does have a built-in PDF viewer, it is very basic. In addition, Microsoft's very own built-in PDF viewer apparently is not capable of generating PDF thumbnails. Nice one, M$.
So, install the latest Acrobat Reader XI, install the fix above, and rock and roll!
UPDATE: I just installed Acrobat Reader DC. No new PDFs have thumbnail previews. Then I found this on Adobe's help site:
We had to remove the thumbnail preview functionality from Acrobat and Reader DC for technical reasons. We know there are users who value it but certain design considerations forced us to make this change.
In short, if you want PDF thumbnail previews, do NOT upgrade to Reader DC, because it removes thumbnails entirely… 🙁