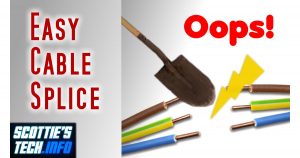 If you've ever accidentally chopped through a wire or electrical cable, you know how much fun it can be to try to repair it so that it stays waterproof, dust proof, weatherproof, etc.
I recently had just such a fun experience myself. It turns out that there are quite a few nice products out there to make the splicing process WAAAAY easier.
Keep in mind that the type of splice you use depends greatly on the application – and even the type of wire (solid vs stranded).
A wire splice for an automotive-type application must be pretty strong, because vibration is obviously an issue.
An underground electrical cable doesn't have to withstand vibration, but it definitely needs to be waterproof!