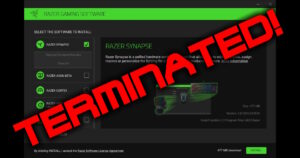 Razer makes some pretty nice stuff: Laptops, gaming gear, keyboards, and even some very nice webcams.
Their Kiyo Pro webcam is particular awesome.
Unfortunately, their software is nowhere near as good as their hardware.
So, you might not want Razer Synapse to install, but every time your plug in your Razer gizmo, that dang installer prompts you – EVERY SINGLE TIME.
How to make it stop?!