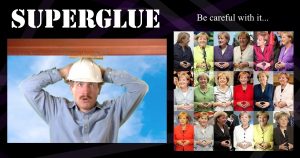 Superglue is awesome.
Originally discovered in 1942 by American scientists who were trying to come up with good transparent gun sights during WWII, superglue is the "sticks to everything" goto adhesive for all your gluey quick-fix needs.
And frankly, until you've superglued two fingers together, you really haven't lived…
Anyway, there's probably a lot about superglue that you've never heard before. So, read on, and then you can go impress your friends with your amazing knowledge of cyanoacrylate adhesives!