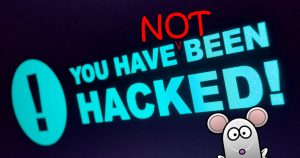 You've got an e-mail address, and you've got friends. So far, so good.
Then one day, you get an e-mail from Debbie telling you that your e-mail account has been hacked. She got a spam message that appeared to come from you!
Johnny got one, too.
Sweet mother of mercy, it must be the end of the world! Your e-mail's been hacked! Maybe your puter's been hacked!
Not so fast…