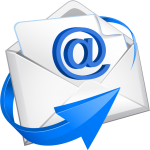 Everybody uses e-mail. It's great.
Not everybody understands exactly how e-mail works, and even fewer people have ever tried to set up a mail server. For those of you who have, I can pretty much guarantee you that you're doing something wrong.
Even if you aren't setting up your own mail server, you really should understand the limitations of e-mail, especially in terms of security.
So, in this post I'll try to give a simple and quick intro to e-mail and mail servers
If you are an admin looking for a postfix or exim "quick answer" that you can copy and paste, you must read this more than anyone!