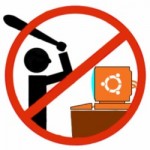 If you're using Ubuntu Server 10.10 and you get the upgrade notice for 11.04 "Natty Narwhal", you might want to hold off a bit before taking the plunge and typing "do-release-upgrade".
It seems there is a rather severe problem with GRUB 2. If you have a RAID setup – and even if you don't – GRUB may not load at all upon reboot, leaving you with a bricked server.
There doesn't seem to be a fix for it. In fact, I do believe the name of the release should be changed to "Nasty Narwhal".
Here's the scoop.
I upgraded 2 different 10.10 servers to 11.04 without a problem. Neither of those servers had RAID, and the upgrade went off without a hitch – as usual.
Then I tried to upgrade to Natty on a server with software RAID 1, and that was a very bad idea. The upgrade hung, so I logged in via the backup SSH port that is set up during the upgrade (port 1022, usually). It appeared that 11.04 had finished installing. So, I rebooted. That's when the fun began.
At first I thought it was just a hosed upgrade, but it turns out that others are seeing this same problem – even when rebooting after a clean install of 11.04.
There's a relevant thread on the Ubuntu Forums called upgrade 10.10 server to 11.04 server failed?
There is also an open bug for Ubuntu on Launchpad here: Cannot boot grub after installing to LVM
If you check out the notes for the bug, the importance given is "high". I suspect this will be raised to "oh my god the sky is falling" shortly. 11.04 was just released a few days ago.
The nice people at my hosting company where the bricked server resides informed me that they had several other customers with the same issue just yesterday, and there is no known fix for it. All attempts to repair GRUB fail, and the only option (so far) is to do a clean install of 10.10.
So, that's what I did.
This seems to be a rather big bug in an Ubuntu Server release, and certainly not the kind of thing I have come to expect from the folks at Ubuntu HQ. I really hope that this issue is resolved long before the release of Oneiric Ocelot in October 2011!
We'll see what happens next!
[ad name="banner"]