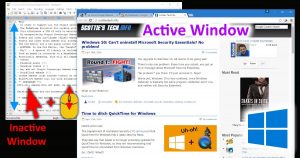 For those of you who have been avoiding the free upgrade to Windows 10, there is one very good reason why you might want to rethink your plans.
The most obvious reason is that apparently, Windows 10 will no longer be a free upgrade after July of this year. And one way or another, eventually you will get a new puter, and the only supported OS will be Windows 10, anyway…
But if that doesn't convince you, how about this: Windows 10 let's you scroll inactive windows just by hovering the mouse pointer over the window.
What on Earth am I talking about?