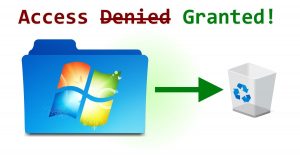 Every now and then, you upgrade your puter.
Let's say you add an SSD. You copy your old hard drive's contents to your shiny new SSD, and use your old HDD as a data-only drive. You boot from the new SSD, and poof! You're done.
Well, sort of…
Your new E: drive is now only a data drive, but alas, there is still an E:\Windows folder, and it's taking up lots of space.
So, you try to delete E:\Windows… Access Denied, you need permissions, and so on…!
There are a million and one articles out there about how to delete an old, unneeded Windows folder, but they usually involve some piece of software or complicated shenanigans.
Well, forget that! This method is a piece of cake…