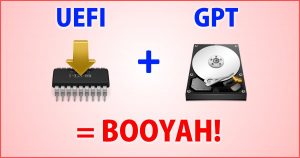 In the olden days, your puter had a BIOS.
Nowadays, the BIOS is rapidly giving way to UEFI, which provides all kinds of benefits.
At the same time, hard drives have sort of evolved, so now we're supposed to use GPT instead of MBR.
Well, okay… First of all, what does all that mean?
And second, how on earth do you convert your MBR drive to the new GPT format without having to reinstall Windows?
It turns out Microsoft has made the process really easy!