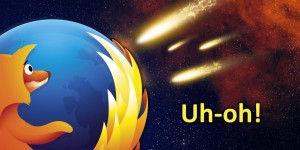 These days, it seems that Google's Chrome is the most popular browser out there. Worldwide, Mozilla Firefox is the second most-used web browser.
There are reasons why Firefox is still fairly popular, especially the Add-on system.
Add-ons let you customize your browser. For example, you can get an Add-On that makes your tabs pretty, or another that blocks ads on web pages.
Of course, there is a problem with Add-ons: they break. When new versions of Firefox are released, it may take awhile before the people who create the Add-On you are using update it to work perfectly with the newest version of Firefox.
And that's when the fun starts! Firefox locks up, Firefox crashes, and you're left throwing your hands in the air.
Not to worry – there's a very quick and easy way to "fix" problems with your Add-ons!