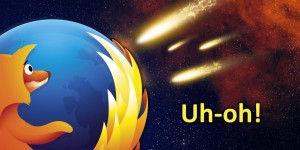 These days, it seems that Google's Chrome is the most popular browser out there. Worldwide, Mozilla Firefox is the second most-used web browser.
There are reasons why Firefox is still fairly popular, especially the Add-on system.
Add-ons let you customize your browser. For example, you can get an Add-On that makes your tabs pretty, or another that blocks ads on web pages.
Of course, there is a problem with Add-ons: they break. When new versions of Firefox are released, it may take awhile before the people who create the Add-On you are using update it to work perfectly with the newest version of Firefox.
And that's when the fun starts! Firefox locks up, Firefox crashes, and you're left throwing your hands in the air.
Not to worry – there's a very quick and easy way to "fix" problems with your Add-ons!
A few explanations
People always say to me: "But AdBlock was working fine in Firefox for 3 years now! So that can't be the problem. It always works!"
Well, no.
That's like saying, "But I bought my car 3 years ago, and the brakes worked fine then! They've been working fine for 3 years! They can't possibly need to be replaced now!!"
Technically, that's not the greatest analogy, but you get the idea.
Firefox is updated regularly. When it is updated, stuff changes. Fairly often, this means that the Add-On you're using needs to be updated to work properly.
BUT… Add-ons are usually created by a third party. IOW, the Add-on is not made by Mozilla, and it's not guaranteed to always work. Add-ons need to be updated just like Firefox. Sometimes, this happens quickly – even ahead of time! Other times, it may be months before an Add-On is updated to work properly again.
There are other issues with Add-ons. For example, Adblock Plus. Adblock Plus is great, right? It prevents various types of ads from showing up when you're browsing. This saves bandwidth, and reduces Ad Irritation. What could go wrong?
Well, a lot, actually…
Recently, Adblock caused a problem with YouTube videos! YouTube changed something, Adblock didn't handle it properly, and POOF! Your YouTube videos stopped working. And I'll bet the LAST thing you thought was, "Oh, it must be Adblock causing the problem!"
What to do, what to do?
Easy!
Close Firefox
Hold down the

Shift

key on your keyboard, and then click your Firefox icon to restart it
You can let go of the

Shift

key when you see the following window: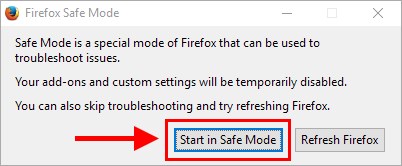 Note the text: Your add-ons and custom settings will be temporarily disabled.
Click the Start in Safe Mode button.
Firefox will launch, but all your Added Goodies will be turned off. The trick now is to go visit YouTube (or whatever) and see if it works. If it does, you need to deactivate your Add-ons one by one in Safe Mode, then restart in normal mode and test again.
To see your installed Add-ons, click the Hamburger button in the top right corner of the browser, and then click the Add-ons button: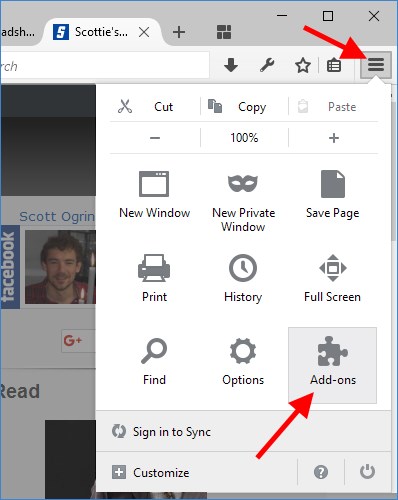 You'll see a list of your Add-ons when you click the Extensions button, like so: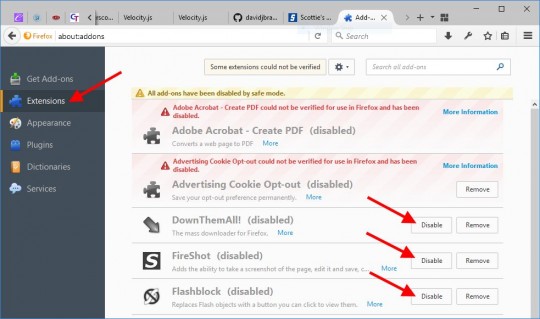 Then, walk through these steps:
Click the

Disable

button on the first one you suspect might be causing a problem
Close Firefox
Restart Firefox normally
Test!
If things work, you know the Add-On you disabled was the problem. If not, then:
a) Close Firefox
b) Hold down

Shift

key, and start Firefox
c) Choose

Safe Mode

again
d) Re-enable the Add-On you just disabled earlier, and Goto Step #1
Eventually, you will find the culprit. Problem solved!
Now you just have to wait for the Add-on author(s) to fix the Add-on… Or you can Google it to see if somebody else has found a temporary workaround.
One more thing…
Well, Add-ons are great, but they come with a price: They break stuff sometimes!
And as with Adblock Plus breaking YouTube vids as I mentioned above, the solution for your Firefox problem is not always what you think it is.
At least now you have a way to test each Add-on you're using. If disabling each Extension doesn't fix the problem, you can then try disabling Plugins instead from the same Add-ons screen (see the image above). It's the same process of disable, test, repeat.
Good luck!