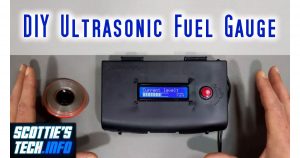 If you have a fuel or water tank that is either metal or colored plastic, you may have run into the same problem I had: How do you know when it's empty?
Mechanical level gauges are nice, but not always practical or even possible. So, I went on the hunt for an ultrasonic level sensor for my fuel tank.
Alas, what's available on the market is too expensive, not very reliable, and often goofy in terms of features. So I decided to build my own!
This ultrasound fuel gauge can be built for around $33 using a breadboard, Arduino Uno, and one of 2 different ultrasonic transceiver modules designed for use with Arduino or Raspberry Pi boards.