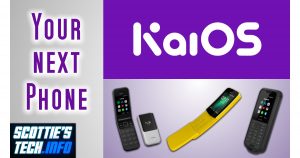 One year ago, I advised against getting a 4G dumbphone with KaiOS. I am officially reversing that recommendation!
After purchasing a Nokia 8110 4G and playing with it for 1 month, I'm actually pretty speechless, and that IS rare.
Despite Google's investment of $22 million in KaiOS over 1 year ago, Google's services remain "add-ons". IOW, KaiOS has NOT become Android Lite.
KaiOS is KaiOS, and there's some Googley stuff on the phone that you can either use, or not. Better yet, you can block the Google apps from doing much of anything.