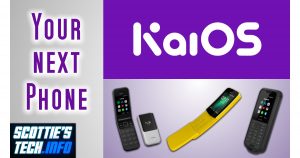 One year ago, I advised against getting a 4G dumbphone with KaiOS. I am officially reversing that recommendation!
After purchasing a Nokia 8110 4G and playing with it for 1 month, I'm actually pretty speechless, and that IS rare.
Despite Google's investment of $22 million in KaiOS over 1 year ago, Google's services remain "add-ons". IOW, KaiOS has NOT become Android Lite.
KaiOS is KaiOS, and there's some Googley stuff on the phone that you can either use, or not. Better yet, you can block the Google apps from doing much of anything.
Even better, KaiOS is basically what PWAs will become on normal smartphones: KaiOS apps are actually just HTML5 + CSS + Javascript, running on a Gecko-based browser engine tied tightly to a small linux kernel.
The end result is the perfect non-Android, Google-enabled dumbphone. You can do stuff like Facebook or WhatsApp if you want, but there are NO Android-type apps.
You don't even need to create a KaiOS App Store account to download apps – just click and go!
Note that the KaiOS app store is totally separate from Google's Play store, and there are 130+ apps already available – and growing daily.
So, for your new dumbphone, give KaiOS a try!
Mentioned in vid:
That's all, folks!