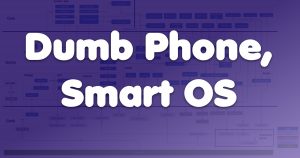 Last week, I published a video entitled 4G Dumbphones: Get one with KaiOS!
In that vid, I talked about why KaiOS is a great OS to have on a 4G dumbphone.
Quite a few people asked various questions, like:
But hang on, isn't that just a smartphone disguised as a dumbphone? But if it has Google, how is that different from an Android smartphone?
And so on.
So this week, I want to dig into some of the details of KaiOS and why it is NOT your daddy's smartphone.