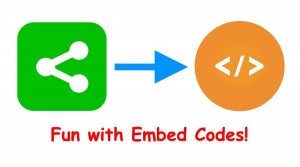 You have probably encountered embed codes before, but they may seem like a bit of a mystery.
An embed code is, in short, a bit of HTML that allows you to embed part of another web site on your own – like a YouTube video, for example.
Embed codes come in two general flavors these days, and each has its strengths and weaknesses.
So, how do embed codes work? Why are some hugemongous, and others teeny-tiny? Are iframe tags really the spawn of the devil?
Read on!